BE A PART OF THE TEAM. JOIN THE STREET SPORTS FAMILY.
WE HELP BUILD CONFIDENT MINDS.
If your looking to train in self-defense, bring greater health and fitness to your life, build up personal self confidence or your simply looking to compete, you've come to the right place. The Brazilian Jiu-Jitsu Club offers Brazilian Jiu-Jitsu Classes and MMA (Mixed Martial Arts) classes. These classes consists of Boxing, Kick Boxing (Muay Tai), No-Gi / Gi Submission Grappling and Conditioning Training for Men, Women and Children.
ACADAMY PROFESSOR CHRIS LISCIANDRO
With building confidence, we offer extra incentives to your child and our young students with patches, along side of belts and stripes, to acknowledge their growth through the ranks and among their new friends they will meet.
As the coaches and parents will testify, they have seen many of our young students improve in self-esteem, flexibility, hand eye coordination, calm behaviors after class, heightened listening skills both at home and in school and most importantly, that our young Brazilian Jiu-Jitsu martial artists are having fun!
Chris Lisciandro demonstrates a bjj guard pass into an armbar technique.
Former UFC Champion Kenny Florian, demonstrates an mma omoplata technique with Chris Lisciandro.
4th Degree Black Belt Chris Lisciandro
Competed at the Texas 2012 NABJJF Black Belt Division and won 2nd Place at the tournament.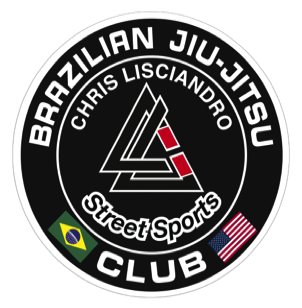 Brazilian Jiu Jitsu Club, Street Sports
818.981.1617
14454 Ventura Blvd.
Sherman Oaks, CA 91423
Chris Lisciandro standing next to and fortunate to have trained with the late great pioneer of Brazilian Jiu-Jitsu, Helio Grace.
Encouraging - Safe - Family - Fun - Exciting